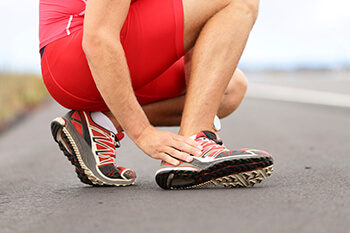 Pain experienced in the ankle can be caused by a multitude of conditions. While the most common cause is an ankle sprain, other possible problems can include arthritis, gout, ankle instability, ankle fracture, nerve compression, or tendinitis. In more serious cases, ankle pain can be due to damage involving the ankle joint and the cartilage within the joint. Infections are possible causes of ankle pain and may require hospitalization if an infection is present.
Ankle pain can often be accompanied by symptoms such as redness, swelling, stiffness and increased warmth in the affected area. Pain can be described differently depending on the condition; short, stabbing pain and a dull ache are some examples. If such symptoms are persistent and do not improve over time, be sure to schedule an appointment with us at New Tampa Foot & Ankle by calling 813-973-3535 or by clicking on the appointment request button on this website.
Depending on the condition behind your ankle pain, different treatments may be prescribed by one of our expert podiatrists. For ankle sprains, the first step in treatment involves Rest, Ice, Compression, and Elevation (RICE). Ankle sprains are often treated with immoblization devices, such as a walking boot. Other, more serious conditions may require the use of medications such as nonsteroidal anti-inflammatory drugs (NSAIDS), oral steroids, physical therapy, or possibly cortisone injections.
Healing time for ankle pain is dependant on the condition present and its severity. Consult with our foot and ankle doctors at New Tampa Foot & Ankle to best determine the cause of your ankle pain and the appropriate treatment.